On November 16, 2015, China Greenland Rundong Auto Group Limited entered into a strategic cooperation memorandum with the Alibaba Automobile business unit of Alibaba Group Holding Ltd., announcing that the both parties will jointly hold and organize the 2015 Double-Twelve Carnival by Alibaba Automobile and meanwhile Greenland Rundong Auto will establish the luxury automobile sales and services franchise flagship store ''Rundong Auto franchise store". In the future, both parties will jointly work out the overall solutions to Internet automobile sale and service industrial chain nationwide. In addition, both parties will endeavor to deepen the industrial layout, optimize service ecology and promote the auto E-commerce strategies by establishing on-line trading and off-line service systems. The subscription of strategic cooperation memorandum between Greenland Rundong and Alibaba Automobile manifests the aspiration of Greenland Rundong to embrace the era of Internet Plus and is an integral part of Internet Strategy of Greenland Rundong as well.
Internet strategy projected by Greenland Rundong
With the era of Internet Plus approaching, service and marketing pattern in auto industry are in urgent need of transformation. China Greenland Rundong Auto Group Limited actively embraces Internet, with which innovates and revolutionizes its current business, centers on customers, and gradually forms a Greenland Rundong Plus Internet strategy situation that is specific to Greenland Rundong.
Actively Deploy Its Own E-commerce Platform
Greenland Rundong has already established its own E-commerce platform (rundongcar) and V-shops on both PC and mobile terminals (Wechat). Simultaneously, the interface between the shops and the internal management ERP is broke. By doing so, the online and offline process and resources are totally integrated, which makes the dialogue with customers accessible. Purchasing vehicles, boutiques and maintenance package, auctioning, reserving for test drive and checking points online can be easily realized.
Recently, the mobile E-commerce APP by Greenland Rundong will be officially available, which interconnects the millions of customers currently held by Greenland Rundong with the APP. This resource advantage will ultimately turns into ten million with the realization of sales revenue accumulated up to hundred billion CNY by Greenland Rundong. The ecosphere constructed by Greenland Rundong which targets on full life cycle and value chain loop gradually comes into being with all the characteristic businesses highly demanded by customers such as financial loan, financial leasing, used car trading, parking navigation, home to home services being incorporated. All these being conducted, the needs of customers concerning auto and their life can be easily met, convenient and value-added service can be provided and the experience of customers can be consummated on the E-commerce platform of Rundong Auto, ultimately the layout of Greenland Rundong Auto Plus Internet strategy will be realized and glamorous trademark that is characterized with Internet in the domain of auto dealers will be in shape.
Actively developing marketing and service channels on the Internet
By establishing long-term strategic cooperation relations with famous E-commerce platform nationwide like Alibaba Auto, Vipshop, Autohome, Suning, etc., O2O auto service ecosphere within Yangtze River Delta Area will gradually forms. Greenland Rundong Auto will serve more extensive customers and promote the off-line businesses by making use of the platform and data of those strategic cooperation partners. Meanwhile, 4S stores and after-sales services of Greenland Rundong Auto will benefit customers of those strategic cooperation partners by providing products exhibition and innovative convergent on-line and off-line experience. All parties dedicate themselves to providing superior one-stop customer experiences on Internet.
Greenland Rundong update developmental strategies, aiming to become hundred billion scale luxury car integrated service provider
Auto dealer industry has remained in low condition since 2014 with the growth of new car production and sale slowing down, inventory being highly loaded and profits being slim in addition to the pressure from Internet and E-commerce business. The dealer system confronts serious and rigorous macro environment. In the future, it is inevitable that large scale of industry shuffle and restructuring is on the way. Yang Peng, the President of China Greenland Rundong Auto Group Limited, holds that currently Greenland Rundong should seize the opportunity that the auto industry is in downturn and the asset value is relatively low to scale up and overtake around the curve by integrating traditional car sales and after-sales businesses. According to its mid-term plan, Greenland Rundong will gradually develop into hundred billion scale luxury car integrated service provider via great-leap-forward-development. Under the guide of this strategic target, Greenland Rundong will conduct its operational construction as settled "one axle with two wings". One axle refers that the Group operation is store-cored and two wings indicates the business of new automobile and relevant industries together with auto financing services, insurances, extended warranties and finance leasing, etc. are included.
Greenland Rundong issues its mid-term strategy soon and plans to promote innovative development so as to acclimatize itself to this new macro environment by merger and acquisition, new energy business, auto finance and Internet strategy.
The strategy of merger and acquisition
Greenland Rundong will carry out merger and acquisition in the domain of auto big consumption at appropriate moment by setting up industry development fund and integrating sales and after-sales businesses. It will achieve rapid expansion by parallel developmental pattern "autotrophic system plus management output".
The strategy of new energy business
Greenland Rundong will seize the opportunity dually driven by national new energy polices and highly demanded new energy markets to further expand its new energy network and operational scale and at the same time stretch into upstream of industrial chain.
The strategy of auto finance
Greenland Rundong will establish open-ended financial service platform that centers on auto products covering dealers, customers and financial institutions, etc. and that is well matched with its strategic targets and create a profit model that is specific to Greenland Rudong by integrating channel resources. Additionally, it will scale up its businesses by carrying put management output, integration of industry and finance and quick copy.
The strategy of Internet
Greenland Rundong will break luxury car integrated service interconnected interface, share information with others, establish customer portrait portfolio, mine and meet customer demands in terms of auto life and relevant needs on the E-commerce platform of Rundong and provide value-added services on the self-built E-commerce platform and by interconnecting with other Internet strategic partners, ultimately achieving the layout of Greenland Rundong Auto Plus Internet strategy and becoming the glamorous trademark that is characterized with Internet in the domain of auto dealers.
Greenland Rundong plans to take advantage of the combined strategies aforementioned, delve deep in the auto industry and service value chain and build a world-class sustainable and profitable luxury car integrated service provider with the revenue scale up to hundred billion CNY.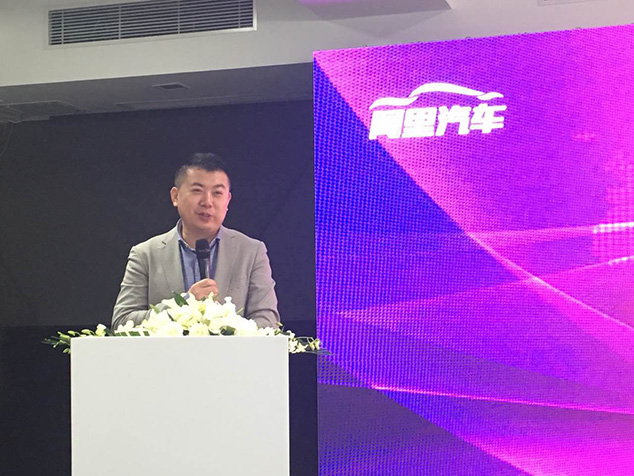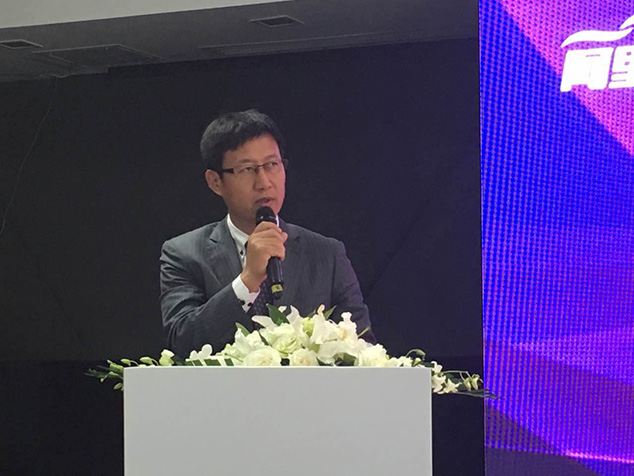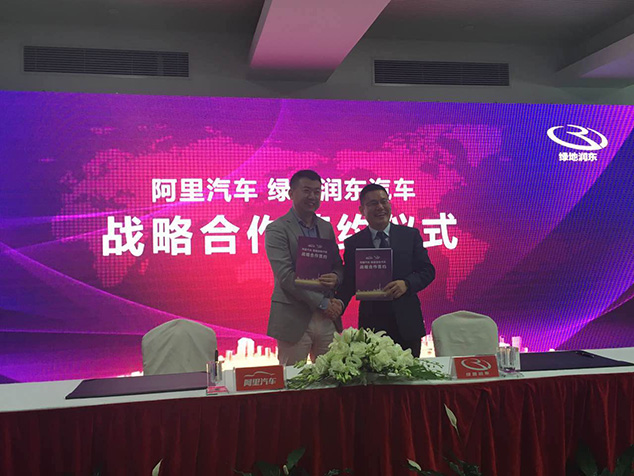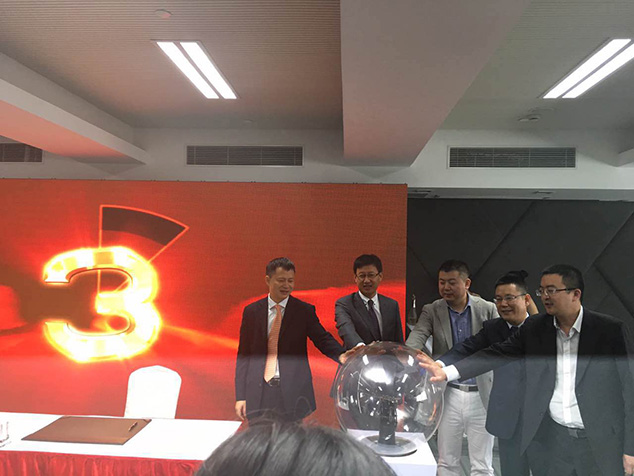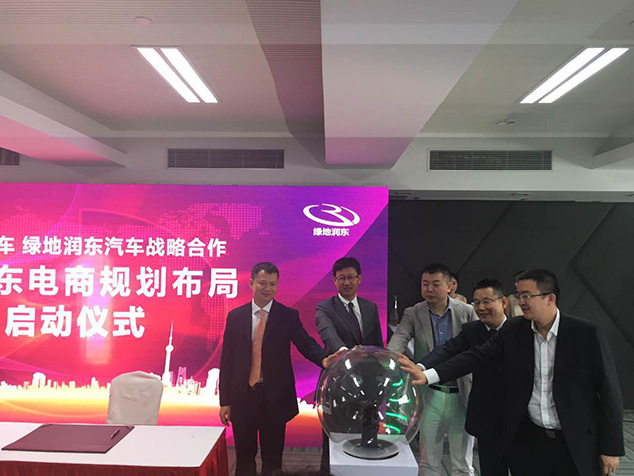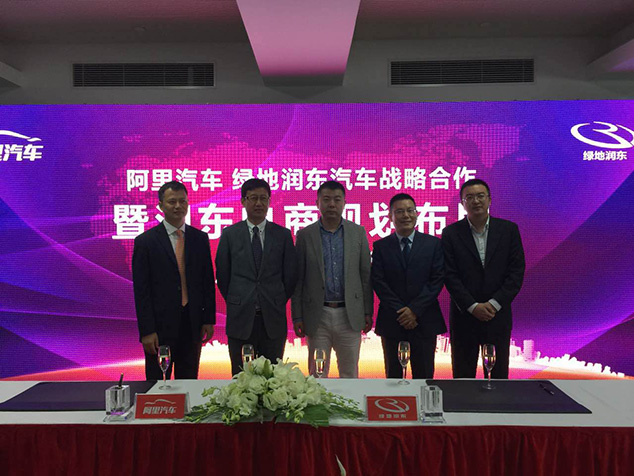 The Release of Internet Strategy by Greenland Rundong Auto—Alibaba Strategic Cooperation Ceremony is Launched